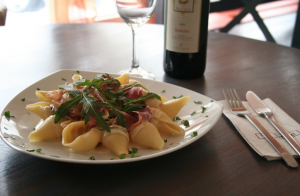 Calling all foodies, when you are on your travels in Europe, here are some things to keep an eye out for, as advised by some of the world's best travel advisors.
Italy
Drink Chianti in Tuscany, indulge in some Prosciutto on your Parma and savour the taste of the authentic Bolognese sauce in the city of its origin– Bologna. Learn to make pasta or simply delight in a meal of pasta al Pomodoro, which is usually prepared with fresh pasta, olive oil, just picked tomatoes, basil, and various other fresh food components. Make sure you check out the traditions of Italian cuisine and wine from the town or city of their origin, however if you can't get there, at least try a delicious gelato while exploring Rome's Piazza Navona. From Panini to Pancetta, check out the depth of food lover heaven when in Rome, Florence, Venice, Parma and Tuscany, and more. If you miss the food upon reutrning, make sure to check out South Yarra's very own authethentic European bistro.
Spain
Munch your way through Andalusia, Madrid, Seville and Barcelona. Join in with the locals at the maze-like La Boqueria Market in Barcelona, taste-testing samples of regional Manchego cheese, jamón serrano and olives. Immerse yourself in the regional tapas scene in Barcelona, find out how traditional Paella is made during a cooking presentation of Spanish prepared meals and savour the scrumptious local Catalan food, from Tuna escabeche to crema Catalana.
Scotland
The Scots claim to be the best food nation in the world! Scotland's plentiful natural food game of, dairy items, fish, fruit and vegetables allow chefs to produce meals including different seasonings and spices. From Aberdeen Angus beef, Stornoway black pudding, Arbroath Smokies and Shetland Salmon, Lock Fyne Oysters to Scottish whisky and craft beer and wine, foodies can travel around Scotland tasting regional specialities from local restaurant and wineries. Don't miss Scotland's national meal, the haggis, which is a savoury pudding that consists of meat mixed with oatmeal, onions, different spices and salt. There's even haggis ice-cream and haggis-flavoured crisps and chocolate if you're game to try!
Poland
Poland is an emerging destination for food, a destination that is also well-known for it's Vodka. Some local meals to keep an eye out for include Kwasnica (Sauerkraut soup), placki po góralsku (potato pancakes with goulash) and smoked Sheep's cheese. Don't miss trying out the pierogi (Polish packed dumplings), but for those more daring foodies, you can attempt bull testicles, jellied calves' trotters or duck blood broth with vinegar. Street food fans must keep an eye out for Zapiekanki "Polish pizza", an open-faced baguette topped with melted cheese, sliced mushrooms and sauces, or the Obwarzanek,  which is touted as a symbol of Krakow, a chewy bread roll topped with poppy seeds, sesame seeds or salt.
There are definitely more common European foods to keep an eye out for, even just to say that you've tried it. Like a Croissant from a breakfast restaurant in France, or a German sausage. Europe is the place your culinary dreams are made of, and with so many countries in close proximity to each other, it would be silly not to give everything a go!