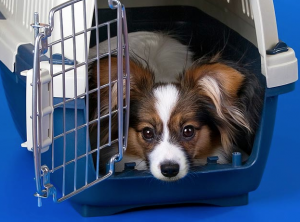 If you are carrying your pets with you when you travel, there is a lot of preparation that you need to do first. Make sure that your pet is as comfortable as you can get it, not too hot and not too cold when traveling. If you are traveling by car maybe a pet carrier would be better for a kitty. A sick animal can make a trip miserable for you.
If you are going to be visiting with someone, be considerate. You need to find out in advance if the pet is welcome to come. They may have pets of their own that won't get along with yours. Also use this rule for hotels, parks, and certain camping areas.
If you have to leave you pet in a motel room for some reason, make sure that you place the DO NOT DISTURB sign on the door and tell the hotel supervisor or maid what is going on. It is a good idea to bring your kennel with you on your trip for these times. Also, it's good if you are staying at someone house that does not want your pet running freely around the house.
Be sure your pet has its current tags on its collar. The tags should properly identify your pet with your address on it.
Make sure your pet is well-groomed before the trip that way they are nice and neat for everyone. Take the animal's favorite toys, meal, and dishes with you if you can. This will make the animal feel more at home and help it to relax.
Have a copy of your pet's most recent shots and medical history. You will need to have this if you are crossing some state or international borders. Some people take their pet to the vet for a checkup before they travel anywhere with it. This way they know that their animal is healthy and there should be no problems with them while they are traveling.
If your pet is going on a long journey with you in a car, there are some things that you can do to make the experience an improved one. If your animal is not used to riding in a car, you can check them out by giving them short rides in the car with you first. Some pet just don't like to ride. I've got a cat that meows with every breathe as long as he is in the car.
If you can stick to the pets regular routines, like feeding and so forth. Be sure the food you carry is the food the pet likes. Also stop ever so often for your pet to stretch and do whatever. Keep your pet in the back of the car and out of your lap.